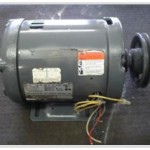 Spin/Extract Washer Motor
This motor is the larger of the two motors which are found within the Milnor 35LB Washer. Our rebuilt includes new copper coils, quality bearings and an internal start switch.
One year warranty
To order, please call cellphone 323-762-3267 or office number 323-666-6972. If possible please photograph existing motor before calling.